Water Bores

In today's world no water is cooler, clearer, less polluted or contaminated than the 97% of the earth's fresh water that exists underground.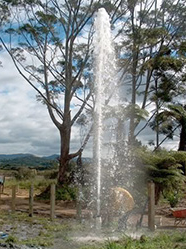 Quoting of water bores
We offer a no obligation free onsite quote. The quote includes:
drilling
materials casing
equipment
labour
Everything finished and ready for the installment of the pump.
For us to proceed with the bore consent we will need you to complete a small form.
We will also need to locate all bores within 200 metres of your drilling site.

We drill, design and construct bores for
domestic
farm supply
irrigation
lifestyle blocks
town supply
geothermal

Permits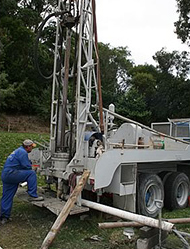 You are required to have a consent from your Regional Council before we can drill a water bore.
We apply for the permit on your behalf. A one off cost for a domestic bore.
The permit usually takes around 14 working days.

Drilling your bore
We require access for 2 trucks, close to power (always convenient for client and less expensive).
We can drill in a garden area for disguising, in a driveway with a man hole cover,
side of house or garage.
There is an option for the removal and disposing of drilling waste.
The bore hole is lined with a PVC or steel casing to stabalise the hole.

Pumping of your water bore
We can arrange related supplys such as:
submersible pumps
electrics
surface plumbing
tanks
Contact us for a free quote.